Hello and Welcome to Pomskies.com
Breeding top quality Pomsky puppies since 2014!
We run a small family owned breeding program located in Virginia. Our mission is to breed the best quality Pomsky puppies we possibly can. In order to be the best we can possibly be, we have/continue to educate ourselves on all aspects of breeding
Our breeding dogs are raised in our home and are a part of our family. We live on a 6 acre property, two of those acres are dedicated to our dogs, where they can run and play freely. We raise our dogs on a high quality diet to ensure overall good health. They are seen regularly by our veterinarian and kept up to date on their vaccines.
Each of our litters are whelped inside our home and kept there until they reach the ages of 5-6 weeks old. They are then transferred to our "puppy condo" , which is an overall space of 16ft by 8ft with both indoor/outdoor spaces, where they have much more room to move about and play. The indoor space is climate controlled. We are very "hands on" with our litters of puppies from the moment they are born until the time they join their new families.
If you would like to keep informed of upcoming litters and available Pomsky puppies, please click on the link below. Please be sure to fill out all of the information accurately. This is a no obligation subscription, you can remove yourself at any time
Meet the Parents of our pomskies
We only use top quality Siberian Huskies, Pomeranian's, and Pomskies to create our lines.
Our main focus in breeding these wonderful puppies are health and temperament. We do not breed for eye color or size and will not guarantee either.
We Embark DNA test each of our breeding dogs. We do this not only to prove our puppies are "true Pomskies", but for the genetic health testing to ensure we are breeding the healthiest puppies possible. We are breeders that do care about the future of our puppies, therefore we do require a spay/neuter contract to be signed by each new Pomsky parent. You can find our Puppy Contract tab at the top of our page.
How can I find Pomskies for sale near me?
We are located in Virginia. However, we do offer the shipping of our puppies throughout the Continental US. We prefer to use a Flight Nanny service when shipping our puppies, but can (depending on restrictions at the time) ship them via cargo as well.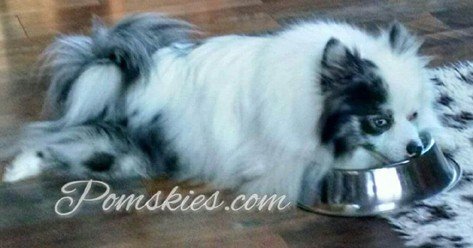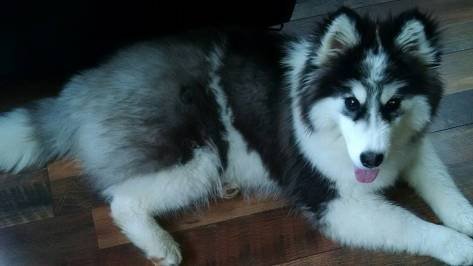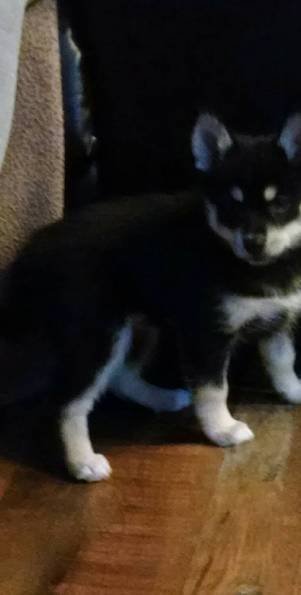 A Pomsky is a Designer Breed dog that is created by mixing a Siberian Husky with a Pomeranian. The Siberian Husky being the mother and the Pomeranian being the father. Both breeds are wonderful and unique in their own right, bringing them together creates a breed that is something very special. You create puppies that not only combine the look of each breed but the also the traits.
Pomskies come in various sizes, coat types, markings, and colors. There is literally something for everyone!
Pomskies tend to be high energy, extremely intelligent, loyal, and very family friendly.
While they do need exercise they do well in apartment settings.
Please keep in mind that there is no set "breed standard" when creating a mixed breed as each of the offspring can carry different percentages of the traits from either of the original breeds used.
Before purchasing a Pomsky puppy please be sure to take the time to learn about both of the breeds used in creating this amazing mixed breed of dog. Owning a puppy/dog is a huge commitment so be sure that you are ready for it.
Puppies do not come "pre trained", you want to be sure that you have the time, energy, and patience needed to train your puppy. While Pomskies are very intelligent and, for the most part, easily trained…every puppy is different and some may not respond to training as quickly as another might. The time and effort you put into training your puppy is a direct reflection of the outcome of that puppy as it becomes an adult.
We have a number of "resources" pages that can help to guide you in the right direction. You may also reach out to us with any questions you may have.
If you have done your research and are ready to purchase a Pomsky puppy please feel free to "contact us" for availability and information on upcoming litters. You can also check out our "Puppies" page.
We look forward to pairing you and your family with that perfect puppy!
We look forward to pairing you and your family with that perfect puppy!